Slovenia is emerging out as a dynamic and a world class centre for education.  Students from all over the world are coming to the country for higher studies. Slovenia provides the best environment for students of all nationalities as it has a state of the art education system equipped with modern facilities. Slovenia is located in Europe on Adriatic Sea, between Austria, Croatia, Italy and Hungary.  Slovenia is known for its castles, art galleries, thermal lake water, museums and the warm curative climate. The country is even rich with fascinating architecture and has diverse landscapes. In Slovenia, there are many student benefits available for international students. Students can get discounts on transportation, accommodation etc. Food coupons are also given to the students. In Slovenia, there are many scholarship programmes for international and Slovene students. The Government of Slovenia offers scholarships, grants and other financial support to the students on the basis of merit or needs. Slovenia is often lovingly called a 'green country' because of the many woods that exist all across the country.  You can enjoy some amazing autumn scenes when the leaves change colour and create almost rainbow coloured woods. Although small, Slovenia is covered with various monuments and other sightseeing options that will keep you busy during your free time. If you feel like travelling to different countries, you could not pick a more perfect place.  Slovenia is located right in the heart of Europe - between Italy, Austria, Hungary and Croatia.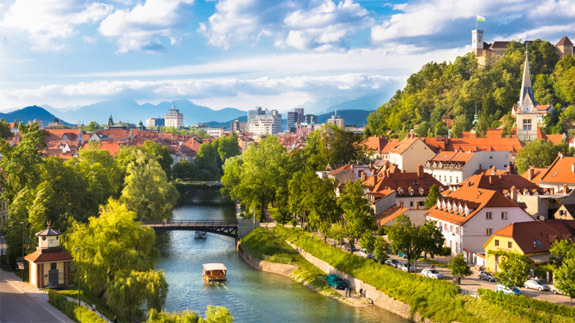 Here are some reasons to choose Slovenia as study destination:

Slovenia is a great English-speaking nation. All the lectures for foreign students are in English and the professors speak nice English
People in Slovenia are highly open and kind and they will help you in all the possible ways
There are student benefits in at least eighty percent of the restaurants in the cities that consist of students
The students can get affordable accommodation in Slovenia. There is an option to live in student dormitories where the monthly rent is from 80 to 150 Euros and all the expenses are covered
The students can get a wide range of discounts for their activities
Studies are very much adapted to the foreign students
Professors take extra time for you and they are less demanding towards the foreign students
Students may get more of the personal time from professors and teaching assistants Students may avail affordable transport
Slovenia supports the concept of a real European area of knowledge and makes an attempt to utilize the measures that support equal opportunities, higher education and vocational education and training along with language learning. There has been a great increase in the student numbers and it is a desired nation for many foreign students. Studies are facilitated by public and private universities, faculties, art academics and professional colleges. The art academics, faculties, universities give all kinds of study programs.UA Networks offers famous universities from Slovenia to find out the best courses from Europe.